A Review for StellarCleenz 99.99% Silver Hand Cloth. In response to a call for a try-and-review of a new product at Barefoot Healing – an Australian company selling grounding or earthing products as well as other complementary wellness items.
I was lucky to be selected and the pack arrived just at the right time. About to go away, so a few weeks in and out of airports etc. And the constant worry about germs and catching something. Who wants to get sick when you're on holiday, right?
Anyway, I happily packed the little silver cloth in my carry-on ready to use when I needed it. (When did some airlines stop giving hand cloths before meals?)
So, what do I think?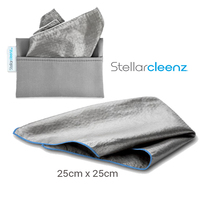 Love that it comes with a well-designed and practical pouch. It can fit into any purse or pocket.
Love that it is so easy to use and convenient.
Love that it is supported by science and research.
Info from the Stellarcleenz website in Australia:
Stellarcleenz® is an innovative natural anti-microbial 99.99% Silver Hand Cloth used as an alternative to alcohol-based body sanitizers, wipes and gels.  Stellarcleenz® is not only better for you to use, it it's also light and small to carry, does not need to be replaced continually and leaves no mess behind. Stellarcleenz® is a fresh way to tackle our everyday germs in a healthy and environmentally friendly way and you won't want to leave home without it!
The Benefits of using Stellarcleenz®
Naturally and safely kill 99% of harmful germs, fungi and viruses
Chemical free, non-alcohol based and safe for all, including babies and pets
More effective than gels, sprays and wipes
Won't dry or crack skin
Can be used wet or dry
Does not kill "beneficial" bacteria (often called "good bacteria") that lies beneath the oily layer of the skin (epidermal layer) which our bodies need (alcohol does)
Great for all parts of the body, surfaces and devices
Long lasting, portable and discreet to use anywhere
Incredibly economical (lab tested for over 10,000 wipes)
Environmentally friendly
Watch more here –
Image and video from http://www.barefoothealing.com.au/complementary/stellarcleenz